Electronic Filing
TRANSFORM PAPER INTO PIXELS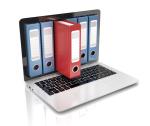 Looking for ways to reduce the amount of time spent with paper-based processes? Digitising documents and automating your workflows provides secure document storage giving you total management control.
Toshiba's Electronic Document Management (EDM) solutions transform electronic and paper-based documents into intelligent data, delivering enhanced efficiency, cost-savings and increased security.
Convert mountains of paper, file shares and email in-boxes into smart digital workflows. Watch staff productivity soar while the risk of losing business critical information is dramatically reduced.
Toshiba's EDM solution can save your company time and money. Spend more time being productive and less time searching for missing documents. By searching for specific information contained within your documents, a file or record can be retrieved within seconds.
Showing all 2 results